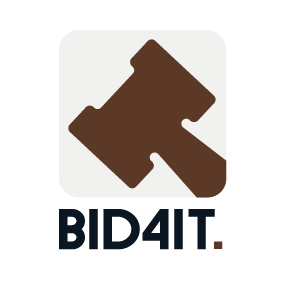 Our own online platform Bid4It
Live-bidding, online catalogues, article inquiries, sale results, live-stream and many more…
The registration is simple, just follow these steps:
Click here and sign up. Confirm your registration with the email you will receive afterwards.
Sign up for the upcoming auction and wait for your activation to bid.
Once your request has been approved, you will receive an additional email.
On the day of sale, just log in using your email address and password and bid live.
Of course, there will an audio/video stream live from the auction hall.
Please note the following important information
As a new customer, kindly to send us a copy of the ID for identity check to info@auktionshaus-sieglin.de.
The use of mobile devices (smartphones and tablets) can lead to latency when displaying or placing bids.
Thus, we recommend to use the application on desktops or laptops.The use of a legacy browser can cause issues when using the application.
---
You can find all lots of the upcoming auction here
---
New features
Bid4It is under constant development. We are proud to present you the following new features:
Simplified registration procedure
If you have already registered once for an auction, you can log in to Bid4It again and again with these registration data and conveniently register for the respective auctions.
New customers have to register once.
Overview of all auctions
We have developed an auction overview for you. There you will find the current auctions as well as the past auction as long as there is a post auction sale.
Product catalog with wishlist
With the new integrated catalog you can search lots by description or categories. This offers a list and gallery view as well as a wishlist.
The knockdowns of the lots are automatically updated during and after the auction.
Detailed inquiries
Do you have questions about a specific lot? You can conveniently send inquiries about individual lots to the auction house via the catalog.